The research team from the NCHRP Project on TSMO Workforce developed a series of 19 model position descriptions for professional level TSMO-related positions to assist practitioners in recruiting qualified personnel. Several agencies have faced challenges redefining or creating position descriptions for a contemporary TSMO workforce. The scope of the work was limited to positions that require a 4-year college degree and above. There are future opportunities to apply similar methods for assessing needs for other, para-professional positions such as TMC Operators, electrical technicians, and freeway service patrol drivers.
The position descriptions compiled by the team include: 1) jobs that are currently being filled by organizations in varying degrees as they shift towards more comprehensive TSMO throughout the organization; and 2) jobs that will be required in the next 5 to 10 years depending on how rapidly emerging technology makes its way into the transportation industry. While many of the position descriptions build on more specialized civil engineering skills, others recognize the need to broadly expand and diversify the training and education needed for future positions.
The 19 positions descriptions are provided via the links below. Each example position description is organized in a table format and includes the components shown in the figure below.
Position Description Components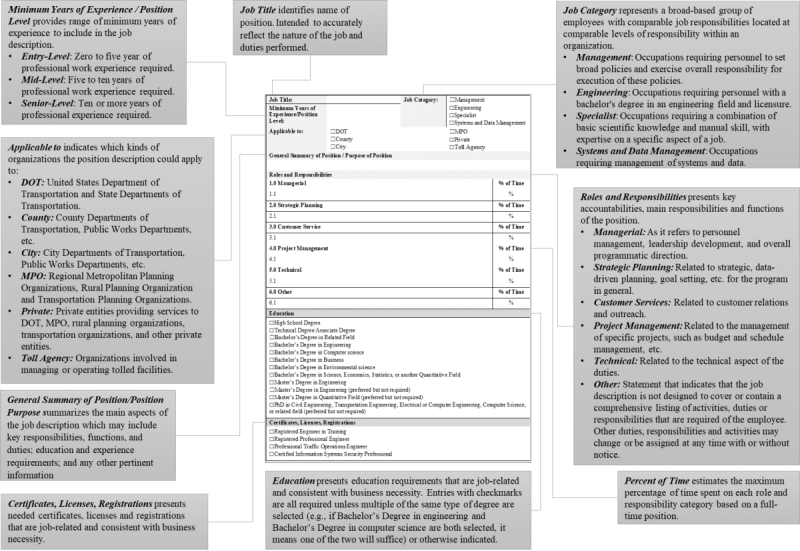 Identify Required Knowledge, Skills, and Experience
For each of the 19 position descriptions, the research team developed related KSAs to characterize entry-level and advanced TSMO positions for DOTs and others to understand needs for attracting and retaining employees in emerging TSMO positions.
To define KSA requirements for the model position descriptions, the research team collected information from DOTs throughout the country using online searches of progressive agency job postings and those provided by interview participants. The team also extracted details from real-time job postings relevant to the transportation industry via online job search engines (Monster.com, Indeed.com, and usajobs.gov). The research highlighted the KSAs that appear in job postings with the frequency of approximately 40% or higher for each model position.
Additionally, KSAs that did not appear with high frequency currently but are expected to be critical for future positions were identified. In some cases, the positions are emerging and thus formal descriptions and KSAs do not currently exist, and these positions were identified as such. The team also developed KSAs for the emerging positions via research into related occupations and literature review regarding anticipated competencies.