Overview
Dynamic Message Sign (DMS) Use During Crash Responder Safety Week (CRSW)
Sep 08, 2021 3:00 PM – 4:30 PM EST
This webinar spotlighted five State Departments of Transportation (DOT) that use of changeable message signs (CMS), also called dynamic message signs (DMS) during CRSW. Vaishali Shah (AEM Corporation and TIM Program Support) summarized four States' DMS strategy:
Texas DOT uses two alternating messages, "PROTECT FIRST RESPONDERS AND ROADWAY WORKERS," and "MOVE OVER O SLOW DOWN IT'S THE LAW." These messages display across 576 DMS across 15 regions in Texas. The average display duration was 10.5 hours per sign on days it was displayed.
Virginia DOT did not use messages in year 2019, but began to do so in year 2020, Monday through Friday. The messages include "SLOW DOWN MOVE OVER FOR RESPONDERS" and "MOVE OVER FOR RED, BLUE, AND AMBER LIGHTS." The State's policy is to run these as low priority messages, superseded by high priority events such as roadwork or crashes.
Maryland DOT only uses DMS messages related to the Move Over law and posts messages during off peak (non-rush) hour. The messages include "MOVE OVER FOR EMERGENCY VEHICLES, IT IS THE LAW" and "MOVE OVER FOR EMERGENCY VEHICLES ON THE SHOULDER."
New York State DOT uses a two-phase message specific to the DMS type. For large permanent DMS they post the following two message sets:

Phase I "MOVE OVER OR SLOW DOWN" and Phase II "FOR EMERGENCY VEHICLES WITH FLASHING LIGHTS," and
Phase I "MOVE OVER OR SLOW DOWN" and Phase II "FOR SERVICE VEHICLES WITH FLASHING LIGHTS."
For smaller portable changeable message signs (PCMS), New York State DOT shortens the messages as follows:
Phase I "MOVE OVER" and Phase II "FOR EMERGENCY VEHICLES," and
Phase I "MOVE OVER" and Phase II "FOR SERVICE VEHICLES."
Keynote speaker, David Hunt (Communications Manager, Division of Transportation System Development at Wisconsin Department of Transportation) provided the strategy and coordination their State applies to define their DMS messages and policies for CRSW.
Move Over, Slow Down is an important message they try to stress all year long, not just during the CRSW. DMS messaging is a tool to reach the broader driving audience, however, they also use news release, social media, flyers, and pamphlets, that represent the main responder disciplines. A few years back, they developed a video with TIM responders. They also coordinate a Governor's Proclamation and offer ride-along with the Freeway Service TIM operators for CRSW.
Wisconsin convenes core team of approximately a dozen representatives from traffic engineering, operations, ITS, communications, public relations, State Patrol, and their Bureau of Traffic Safety bimonthly to plan messaging for the subsequent two months. FHWA representatives also attend planning calls. The mid-October meeting will include plans for the November CRSW and the State's strategy for December.
From an approval perspective, the team discusses the messages and then involves the management at the division level, management at the Office of Public Affairs level, and the Secretary's Office.
The group promotes a feedback loop –when they receive feedback from public through their 511 system, they make it a point to act on the feedback and consider the public's opinions. They are committed to the core mission of the signs – safety.
Move Over is a core safety messages for them. They included some similar messages from 2019-2020, displaying one message per day of the week (Mon-Fri). They steer away from using a message mentioning awareness week to deter other organizations from trying to display messages, not related to traffic safety, for these organizations' awareness weeks. The five messages for year 2020 are illustrated below: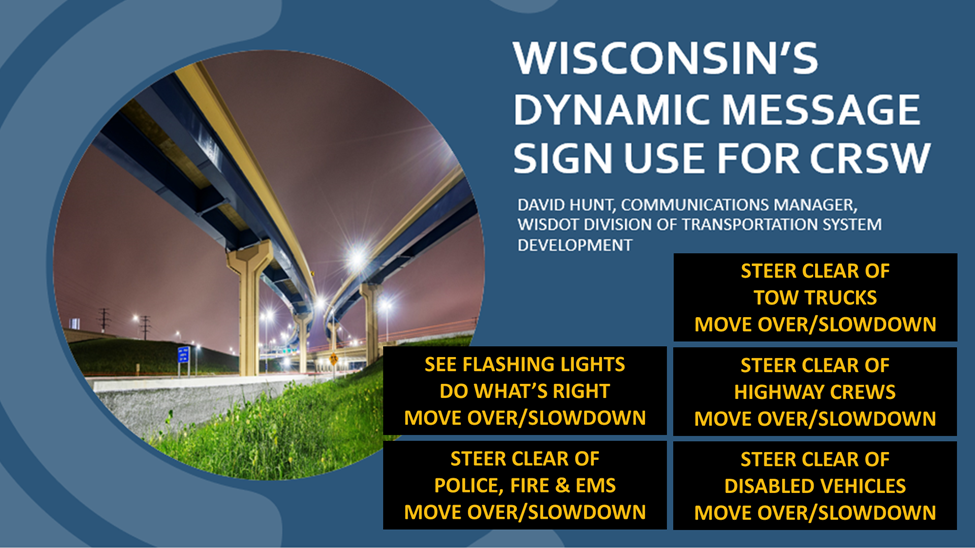 Though not mentioned in the webinar, Nevada DOT also shared that their agency displayed a single message, "MOVE OVER OR SLOW DOWN FOR STOPPED EMERGENCY VEHICLES," in the year 2020. In addition, they are engaging TIM Coalitions and requesting submissions from the public for inspiration to expand the message set for the year 2021 CRSW.
During the second half of the All-State Webinar, TIM communities from the following States and national associations share preliminary plans to commemorate CRSW:
| | | |
| --- | --- | --- |
| Arizona | Georgia | Rhode Island |
| California | Hawaii | Texas |
| Colorado | Michigan | Tennessee |
| Connecticut | Nevada | Utah |
| District of Columbia | New York | Virginia |
| | North Carolina | Washington |
Operations Area of Practice
Roadway Safety Services / Roadway Safety Patrol

Traffic Incident Management
Organizational Capability Element
Traffic Incident Management