TSMO Funding and Program Integration at PennDOT
The Pennsylvania Department of Transportation participated in the 2019 NOCoE Summit on TSMO Funding and Capital Improvement Process Integration (see full report). Below is key information gathered during the summit as provided by PennDOT. A pdf version is also available.
Key Facts
A large portion of PennDOT's funding comes from federal funds
The department has a dedicated and separate fund for TSMO expenditures, allowing for the flexibility to plan, construct and implement initial or separate TSMO projects
PennDOT has 11 engineering districts and 24 Metropolitan Planning Organizations (MPO)/Regional Planning Organizations (RPO). Each district has a planning and programming manager. Most districts also have a planner
Integrating TSMO into Planning
PennDOT's TSMO Guidebook and PennDOT's Connects allow for a holistic approach to planning and ensuring that all people are involved, from the community of professionals and consultants to the actual residents of Pennsylvania.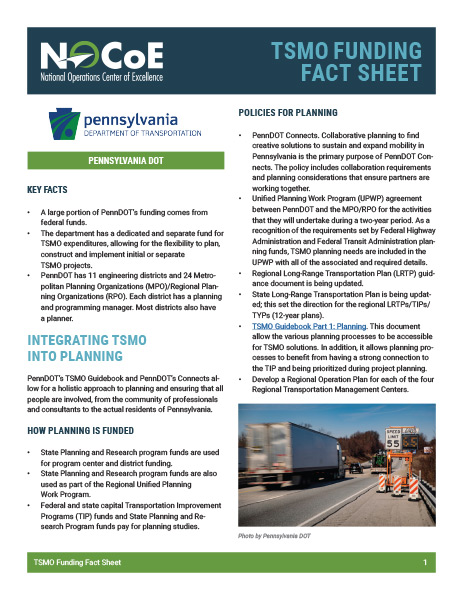 How Planning is Funded
State Planning and Research program funds are used for program center and district funding
State Planning and Research program funds are also used as part of the Regional Unified Planning Work Program
Federal and state capital Transportation Improvement Programs (TIP) funds and State Planning and Research Program funds pay for planning studies
Policies for Planning
PennDOT Connects. Collaborative planning to find creative solutions to sustain and expand mobility in Pennsylvania is the primary purpose of PennDOT Connects. The policy includes collaboration requirements and planning considerations that ensure partners are working together
Unified Planning Work Program (UPWP) agreement between PennDOT and the MPO/RPO for the activities that they will undertake during a two-year period. As a recognition of the requirements set by Federal Highway Administration and Federal Transit Administration planning funds, TSMO planning needs are included in the UPWP with all of the associated and required details
Regional Long-Range Transportation Plan (LRTP) guidance document is being updated
State Long-Range Transportation Plan is being updated; this set the direction for the regional LRTPs/TIPs/TYPs (12-year plans)
TSMO Guidebook Part 1: Planning. This document allow the various planning processes to be accessible for TSMO solutions. In addition, it allows planning processes to benefit from having a strong connection to the TIP and being prioritized during project planning
Develop a Regional Operation Plan for each of the four Regional Transportation Management Centers
Lessons Learned
Working towards creating position in each district to help as a liaison between the engineering staff and the MPO/RPO, and to help integrate PennDOT Connects
Work to build stronger relationships between Central Office operations and planning staff
Utilize TSMO Funding Initiative to supplement operating funds to support INRIX data usage
Integrating TSMO into Programming
The 24 regions have individual Transportation Improvement Programs (TIPs), TYP (12-year program) and Long-Range Transportation Plans. Each region prepares programs based on guidance provided by PennDOT Central Office.
How Programming is Funded
PennDOT updates the Statewide Transportation Improvement Program (STIP)/ TIP/ TYP every two years based on financial guidance, which provides regional funding allocations for federal and state capital funds
Positions within the PennDOT Program Center use the State Planning and Research Program to do many programming functions
The TSMO Funding Initiative provides set-aside capital federal funding to incentivize regional TSMO projects and has helped to advance statewide initiatives
Policies for Programming
Lessons Learned
Transportation needs exceed available funding
The agency must deal with competing priorities for available funding and potential overlap with multiple benefits (i.e., highway safety efforts)
PennDOT has taken steps to integrate TSMO into guidance documents to ensure given consideration for programming
Integrating TSMO into Design
PennDOT has a robust design process guided by its Design Manual series, which is a dynamic document. Additional documents are issued on specific topics to support federal requirements. The agency primarily uses consultants for the design of Intelligent Transportation Systems (ITS)/TSMO.
How Design is Funded
Program design as part of the TIP, which is federal and state funding;
TSMO Funding Initiative to promote stand-alone ITS/TSMO projects.
Policies for Design
TSMO Guidebook Part II: Design
Lessons Learned
Increased collaboration with IT to reduce design problems with communication methods for ITS devices
Identified that TSMO needs to be considered early in the design phase
Need to insure that TSMO is considered in all projects, even if not implemented
Don't want to miss an opportunity to include TSMO in a project even if it was not initially considered for the project
Integrating TSMO into Construction
PennDOT has a goal of +$2 billion in lettings for construction projects. The agency primarily uses contractors for the construction of ITS/TSMO. Some emergency projects could utilize department forces.
How Construction is Funded
Program construction as part of the TIP, which is federal and state funding
TSMO Funding Initiative to promote stand-alone ITS/TSMO projects
Policies for Construction
Pub 408, which includes construction items for TSMO
Automated Work Zone Enforcement
Lessons Learned
Moving toward consideration/implementation of TSMO in all Capital Construction Projects.
Additional Information