TSMO Funding and Program Integration at Iowa DOT
The Iowa Department of Transportation participated in the 2019 NOCoE Summit on TSMO Funding and Capital Improvement Process Integration (see full report). Several key and unique practices were shared by Iowa DOT during the summit process. These are captured below or you can download a pdf version.
Key Facts
Iowa DOT reports to a seven-member commission that has authority over capital and operations budgets with a dedicated road use trust fund that is protected. This gives executives some flexibility over their budget.
Operations is programmed in a high priority whenever the budget allows.
The department is working to integrate TSMO into the entire process to build a culture and governance around TSMO.
Recognizing the role that DOT staff and partners have in being trusted stewards of their transportation infrastructure, the culture of Iowa DOT allow for notables advances in funding TSMO. Iowa DOT was able to have its Transportation System Management Office propose low-cost infrastructure projects of $1 million or less as part of project consideration, giving the projects a higher chance of being funded.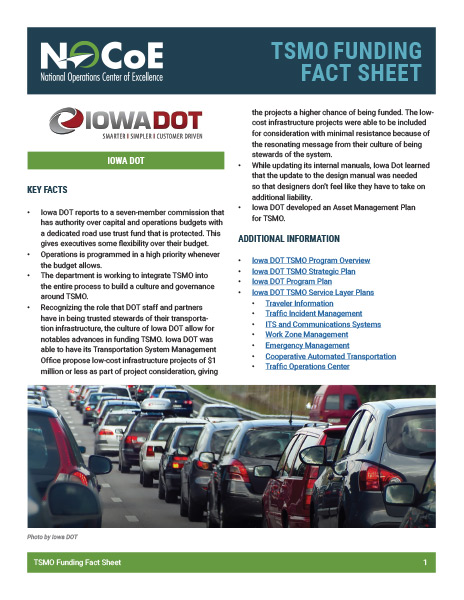 The low-cost infrastructure projects were able to be included for consideration with minimal resistance because of the resonating message from their culture of being stewards of the system.
While updating its internal manuals, Iowa Dot learned that the update to the design manual was needed so that designers don't feel like they have to take on additional liability.
Iowa DOT developed an Asset Management Plan for TSMO.
Additional Information