TSMO Funding and Program Integration at Iowa DOT
The Iowa Department of Transportation participated in the 2019 NOCoE Summit on TSMO Funding and Capital Improvement Process Integration (see full report). Several key and unique practices were shared by Iowa DOT during the summit process. These are captured below or you can download a pdf version.
Key Facts
TSMO is funded directly out of the capital budget, allowing the agency flexibility in how it integrates TSMO into its transportation system.
Delaware DOT reports to a Council of Transportation, which determines the amount of funds available. Distribution and allocation of TSMO funds is mostly up to DOT executives; typically, the finance director and Secretary of Transportation's Office make decisions.
The agency relies on a state highway fund for most of its operations.
The operations budget covers personnel salaries and maintenance activities.
Each project is viewed for the entirely of its components and if the budget increases due to systems and operations needs, the project is pushed to the next year or accomplished in stages rather than reducing intended improvements.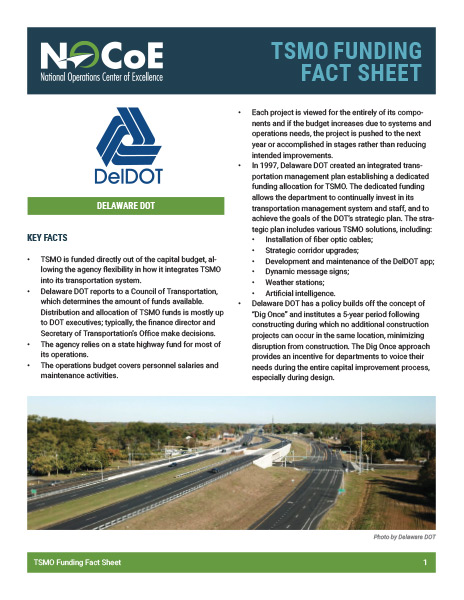 In 1997, Delaware DOT created an integrated transportation management plan establishing a dedicated funding allocation for TSMO. The dedicated funding allows the department to continually invest in its transportation management system and staff, and to achieve the goals of the DOT's strategic plan. The strategic plan includes various TSMO solutions, including:

Installation of fiber optic cables;
Strategic corridor upgrades;
Development and maintenance of the DelDOT app;
Dynamic message signs;
Weather stations;
Artificial intelligence.

Delaware DOT has a policy builds off the concept of "Dig Once" and institutes a 5-year period following constructing during which no additional construction projects can occur in the same location, minimizing disruption from construction. The Dig Once approach provides an incentive for departments to voice their needs during the entire capital improvement process, especially during design.